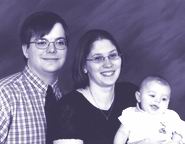 The Barrone Family
---
Adam Barrone was born in Fort Wayne, Indiana. He is a 1996 graduate of Wayne High School and a 2000 graduate of Purdue University, Fort Wayne. He holds a bachelors degree in mathematics teaching. After teaching high school math for 3 years, he in now working in a genealogical library.

Adam's genealogy activities began at an early age. His parents, Dennis & Beverly, provided inspiration in this regard, with tales of those who went before us, and even a father-son motorcycle ride to Monroeville, Ind. when Adam was young, to see Michael Barrone's 1894 gravesite. These early memories stayed with him and inspired him to ask many questions of his grandmothers and other relatives who freely passed their knowledge on to him. He received, as a Christmas gift, in 1993, Family Tree Maker software for Windows, version 1. He ran this on their newly acquired AST 486/25 computer with 4 MB RAM. Free from the burden of recording information on paper, his database began to grow.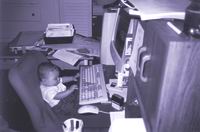 As Adam researched his Gerber roots from Bluffton, Ind., he learned about his Anabaptist roots in Switzerland, the persecution his ancestors were subjected to in Switzerland, and the freedom they found in America to worship. He found an appreciation for the faithfulness and cohesiveness that the Apostolic Christians have to this day and for the manner in which they have preserved the worship style of their ancestors. The strong brotherhood of the Apostolic Christian Church has resulted in very close-knit families, each connected to other church families of Swiss, German, and Hungarian roots. Adam's research has resulted in a database of over 80,000 individuals.
Adam married his sweetheart, Mysti Schammert, on July 7, 2001, at First Christian Church (Disciples of Christ) in Fort Wayne where they are active members. Adam is thankful that she tolerates his excessive genealogical activities, but Mysti does occasionally observe that their only non-genealogy-related vacation was their honeymoon! She was born in Hobart, Ind., having moved to Aubbeenaubbee Twp., Fulton Co., Ind. with her parents in her middle school years. She is a graduate of Culver Community High School, Culver, Ind., and is pursuing a degree at Indiana University, Fort Wayne. She and Adam met in 1996 at Barbee Christian Camp near Pierceton, Ind.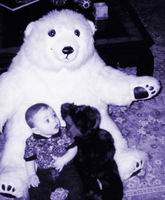 The young couple purchased a home in south-central Fort Wayne, near their church, and were later blessed with two sons, Caleb Michael Barrone (Jul. 2002) and Nicholas Elmer Barrone (May 2006), who can be seen in photographs on this page. Caleb and Nicholas were joined by sister Adella in Feb. 2008. Caleb enjoys computer games, Nintendo DS games, and all things Pokemon. Nicholas can often be found creating imaginative feats of engineering with his Dad's old Construx building toys from the 1980s. Adella loves her Disney princesses, but doesn't shy away from driving or building with her brothers' toys. Caleb is seen at right as a small tyke with some special bears his grandaunt, the late June Vogel, hand-crafted in Pennsylvania. Oskar Bear, nuzzling Caleb's shoulder, hitch-hiked back to Indiana with us.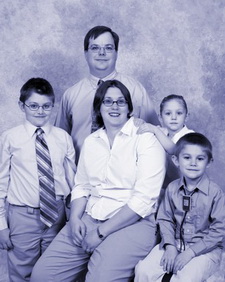 Caleb Michael Barrone is named for his great-great-great grandfather, Michael Barrone, who was a pioneer settler of Monroe Twp., Allen County, Indiana, and was a Civil War veteran. Caleb's little brother, Nicholas Elmer Barrone, was named for his immigrant ancestor, Nicholas Bäron, and for his great-grandfather, Elmer Bino Barrone (1910-1977). Their sister, Adella Amelia Barrone, was named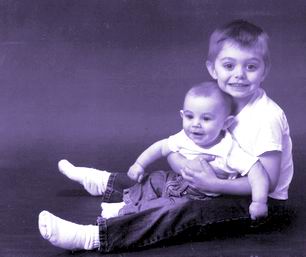 for her great-grandmothers, Mary Adella Pio Schammert and Edith Amelia Lude Barrone. Mary Adella Pio Schammert was named for her grandmother Adela Sordelet Pio. Edith Amelia Lude Barrone was named for her grandmother Amelia M. Feisley Lude.