---
Fort Wayne News-Sentinel: Tuesday, 25 April 2006
---
Dignity for our area's pioneers
Groups unite to restore 160-year-old cemetery near Monroeville
A Column By Kevin Leininger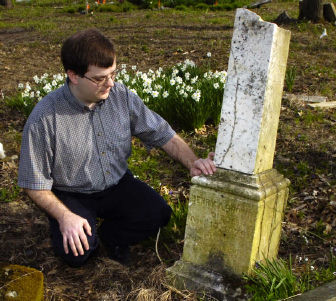 News-Sentinel photo by
Brian Tombaugh
Adam Barrone's great-great-great-grandfather, Henry Brown, is among those buried in the Brown family cemetery. When Barrone first located the stone, it was lying on its side in the dirt. He has been working for eight years to restore the cemetery.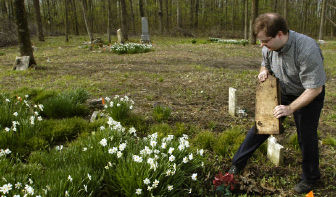 News-Sentinel photo by
Brian Tombaugh
Barrone looks at a headstone he found mostly buried in the dirt in the Brown family cemetery. He estimates that a dozen of the roughly 85 headstones belong to his relatives.
Life is returning to a long-neglected cemetery in southeast Allen County a century after the last burial there, thanks to an unlikely alliance between government officials and one man who refused to let the past die.
"The first time I came out here, it was so sad I cried," said Adam Barrone, 28, whose childhood fascination with his grandmother's family history stories led to a job in the Allen County Public Library's genealogy department and to a discovery that has consumed him for nearly a decade.
When Barrone's research led him to the 160-year-old Brown family cemetery south of Monroeville eight years ago, it seemed little had been done to maintain the half-acre plot since Sophia Rider's burial in 1906. Many headstones had nearly been wiped smooth by a century of wind and rain. Some had broken or toppled over; others had sunken deep into the soil. A dense thicket of trees, bushes and weeds made the cemetery nearly invisible from nearby Whittern Road.
But that is changing, thanks to $20,000 from the county and the help of various organizations who, like Barrone, believe the area's pioneers deserve not only to rest in peace, but in dignity as well.
Despite Barrone's passion to restore the graves of his ancestors and their neighbors – his great-great-great grandfather, Henry Brown, bought the ground in 1848 and was buried there in 1876 – progress has been slow for one main reason: The cemetery was landlocked, surrounded by private property on three sides and Brown Ditch on the other. And Barrone could never get neighbors to allow access into the cemetery, one of the oldest in Monroe Township.
That's where the county comes in, taking ownership of the cemetery sometime after 1906, although nobody's sure when. Commissioner Linda Bloom said Monroe Township Trustee Max Meyer called last year requesting the county's help, because the township is legally obligated to maintain the cemetery but doesn't have the money.
Last November the county installed a $20,000 culvert over the public drainage ditch, allowing Boy Scouts, American Legion members and other volunteers to get in and repair markers, chop trees and remove clutter. The Legion helps maintain the graves of veterans; A.D. Kemp, who served in the Civil War, is among those buried there. The county also won a $500 grant from the Indiana Genealogical Society to pay for fencing and, today, County Commissioners were expected to dedicate a sign on Whittern Road marking the "return" of a cemetery that is better than it was but still very much a work in progress.
"There's no rush," Barrone said. "Nobody (in the cemetery) is going anywhere."
Some no doubt will question whether the county should be spending public dollars on a cemetery nobody but Barrone seems to have missed for 100 years. But he's convinced it's money well spent, and not just because the law requires it.
"These people settled the area and farmed the land. This money is preserving history," he said.
As Angie Quinn, executive director of the local historic-preservation group ARCH, noted, cemeteries are more than repositories of remains; they can also tell us a lot about where the county's earliest residents lived, who they were, who their children were and what they did for a living.
A lot more has been spent on far less important things.