---
Fort Wayne News-Sentinel: Wednesday, 17 February 1999
---
LOCAL NEWS
Man hopes to restore family cemetery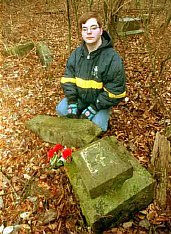 News-Sentinel photo by
Ellie Bogue
Family cemetery
Adam Barrone is attempting to save his ancestral cemetery. There are 55 people buried in the abondoned Brown cemetery in the woods south of Hoagland.
He's researched the law to get it cleaned up.
By BOB CAYLOR
of The News@Sentinel
Dozens of Adam Barrone's relatives lie all but forgotten, their tombstones toppled, worn or stolen, in the corner of a woodlot south of Monroeville. For a couple of years now, the 21-year-old IPFW student and amateur genealogist has tried to get Monroe Township and Allen County to obey the law by tidying up the cemetery.

But the weeds that weave among the tombstones in summer are nothing compared with the tangle of complications that have stymied a clean-up there. No one seems opposed to maintaining the cemetery, but timing makes a restoration there difficult at best.

Barrone learned of the cemetery two years ago. While researching a branch of his family, he contacted Sandra Clem of Monroeville. She mentioned that some of their common ancestors are in a cemetery near the small town in southeastern Allen County. She warned him, though, that their resting place was a wreck even decades ago, when she first saw it.

She wasn't exaggerating.

Only a few of the dozens of limestone, sandstone or granite headstones remain as they were planted between 1849 and 1906. Most are upended, their inscriptions obscured by moss or the wear of a century and more of Hoosier seasons.

In 1848, Barrone's great-great-great-great-grandparents, Henry Brown and Mary Hoffman Brown, bought the land. It wasn't a homestead for long before it became a resting place, too.

[Note by A. Barrone: Henry and Mary Brown are my 3rd-great-grandparents, not my 4th.]

In 1849, Jabez Shafer, unrelated to the Browns, was buried there. Another 54 people would be buried there by 1906, according to the best documentation Barrone has been able to find.

"It's one of the oldest burial grounds in the township, being 150 years old, so the neighbors probably used it, too," he said.

Barrone researched the law on cemeteries and found two Indiana statutes, both which may apply to the Brown cemetery.

One empowers counties to levy a cemetery tax to maintain cemeteries established before 1850 that contain remains pioneer leaders or war veterans. Civil War veteran A. D. Kemp is buried in the Brown cemetery.

"The key thing I've been looking at is there's a vet in that cemetery," said Monroe Township Trustee Max Meyer, who has been discussing the cemetery's restoration with county officials.

Another statute directs township trustees to maintain cemeteries established before 1939 that meet certain other conditions, such as operated by a nonprofit organization or not managed by any viable group.

Meyer said Allen County Commissioners and staff at the county's highway department said they want to fix up the cemetery.

However, the cemetery is on land owned by Albert Dawson, who lives in a nursing home and no longer manages his financial affairs.

[Note by A. Barrone: Mr. Dawson does not own the cemetery. It is public property. Dawson owns land on the north and east sides.]

Meyer said he agreed on a plan to build a small bridge across a ditch beside the cemetery, so workers could reach it for maintenance, but the highway department didn't have enough money for the project last year.

This year another obstacle has emerged. Family members don't want anyone trespassing on the land, Meyer said.

" 'Landlocked' is kind of a dirty word, but that's what it is. They own land on all four sides," Meyer said.

[Note by A. Barrone: The quote above is misleading. Land bordering on the north and east sides of the cemetery is owned by Dawson, the west side is Whittern Road, and the south side borders with another farm. The problem is that Brown Ditch lies on cemetery land between the graves and Whittern Road. Access from the Dawson property would likely be needed for workers to build a bridge, though.]

"You can't run a cemetery without public access."

However, Dawson's sister, Carol Dawson, said she doesn't object to restoration of the cemetery. Although she is Dawson's personal guardian, National City Bank is guardian of his estate and would have to approve any such work or easement to the cemetery.

Daniel A. Brenner, assistant vice president and trust officer at National City, specializes in real estate. He and Carol Dawson said the Dawson property is likely to be sold later this year, and the bank isn't likely to work out an agreement on cemetery maintenance in the relatively brief period before another buyer takes over the land.

Meyer said he remains committed to restoring the cemetery, although he's taking the long view.

"Maybe the next guy who owns the land will be more cooperative," he said.

Barrone, likewise, has a lifetime to pursue the restoration.

"If I nag people long enough, something may get done," he joked. "It'll wait on me."